Safety and resistance for your lab
OHS 20 Digital is designed to guarantee the highest safety standards. The resistant sealed housing and the IP 54 Protection Rating guarantee durability even in the most aggressive environments.
Integrated overload, overtemperature, and overcurrent safety alarms will preserve the performance over time and stop stirring for maximum safety in your lab.
Safe start and stop knob operation and lock key avoid unintended stat up and changes of the working conditions.
OHS  Digital ensures continuous operation and is backed by 3 Years Warranty extension.
Best-in-class Stirring Power
The OHS  Digital is the ideal solution for demanding applications operating with viscosities up to 10.000 mPa.  to 100.000 mPa.
The electronic controlled brushless motor of the OHS 20 Digital stirs up to 25 l, 40 l , 100 l   with a maximum torque of 20 Ncm to 200 Ncm, and ensures the longest lifespan.SpeedServoTM  torque compensation technology keeps the speed constant automatically adjusting to viscosity changes. Precisely set the OHS 20 Digital from 30 to 2000 rpm
Constant torque at any speed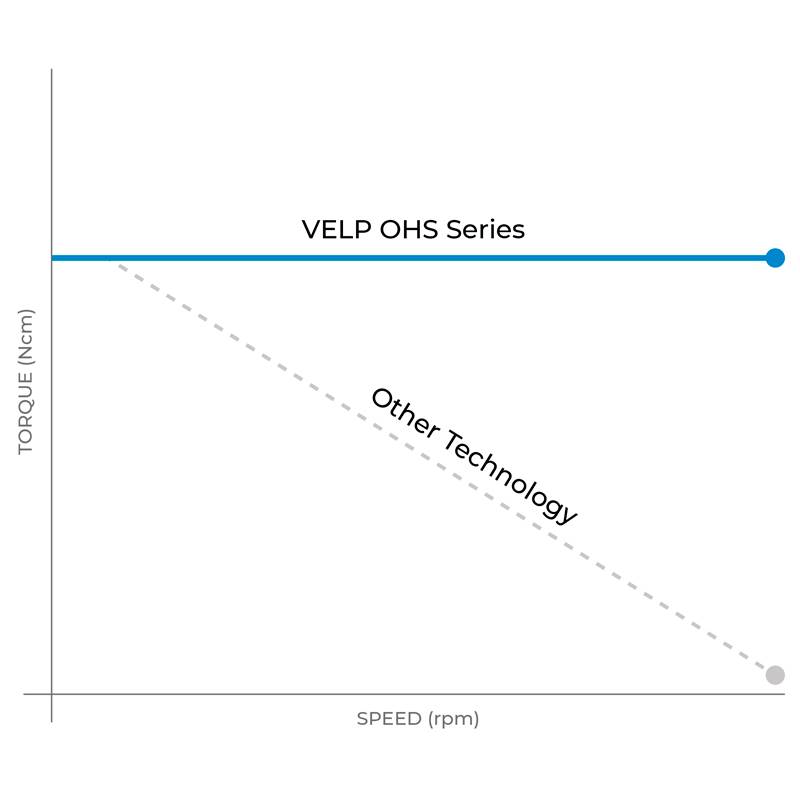 The brushless motor and the microprocessor guarantee excellent performance marking the difference between a conventional overhead and the VELP OHS Series.
The torque is stable throughout the whole speed range, ensuring stirring at maximum torque even at the highest speed.
This is a very important parameter for the reproducibility of your tests.
SmartChuck™ simplifies shaft accommodation
The OHS Digital SmartChuck™ technology simplifies the shaft accommodation process that can be carried out even with one hand and does not require any tool, making your life easier.
With two simple operations, you can unlock the protection ring to drive the shaft in and out with maximum ease.
The opening of the ring during the stirring process will automatically block the analysis and the instrument informs you for maximum safety.
Easy-to-use and precise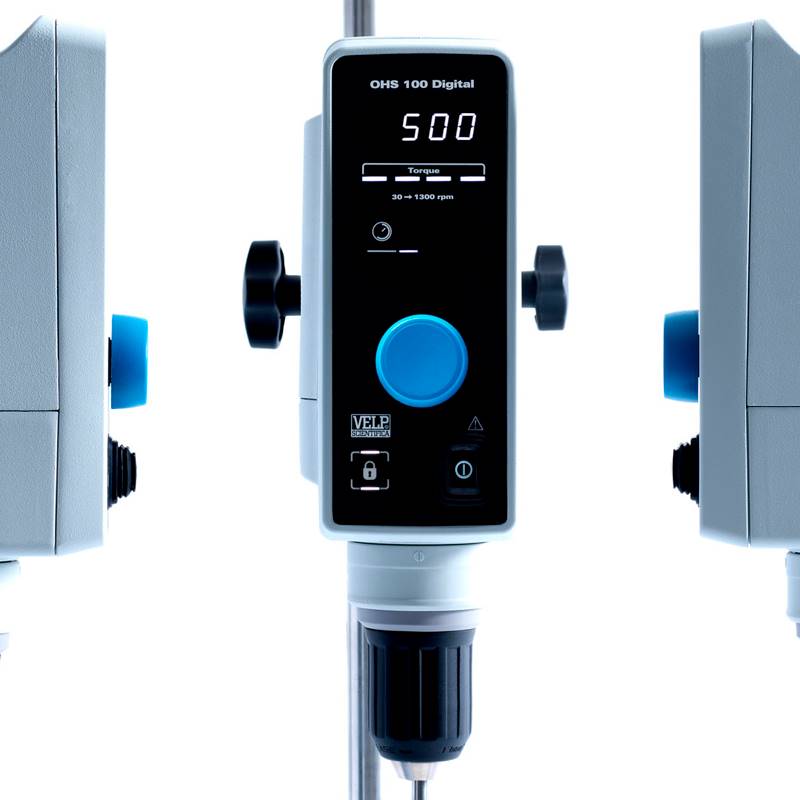 All the necessary information are available at a glance and the dedicated Torque Display with 4 LED segments informs about viscosity changes during the operation.
The OHS Digital integrated timer allows unattended operations. Program your OHS Digital from 1min to 99.59h and walk away!
USB interface facilitates software updates if required.